Each year, thousands of immigration-related cases are decided in the Federal Courts. In the deportation context, cases decided by Immigration Judges can be appealed to the Board of Immigration Appeals and from there, nondiscretionary matters may be appealed to the appropriate U.S. Court of Appeals.
When the government fails to make a decision regarding a petition, an application or a visa for an unreasonably long time, the petitioner or applicant can request that a Federal Judge issue a Writ of Mandamus compelling the agency to take action on the pending matter.
Over the past 30 years, our law firm has won a number of significant victories for our clients in Federal Courts across the United States.
We hope that this page helps you understand the workings of the Federal Courts.
Client Reviews
Professional and Knowledgeable Law Firm
"I've had a decade of experience with Mr. Shusterman's law firm. I used them for my immigration needs from H1 to citizenship. It is safe to say this is one of the most competent, professional and knowledgeable law firms. If there is a firm that can handle any possible immigration case routine or otherwise; then this is it."
- D. Chen, Phoenix, Arizona
Read More Reviews
Skype Consultations Available!
Federal Courts Immigration Cases is divided into the following subtopics:
SUCCESS STORIES – FEDERAL COURTS CASES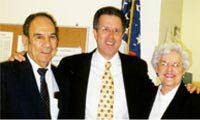 GENERAL INFORMATION – Federal Courts
PACER
Federal Appellate Courts
Practice Advisories From The American Immigration Council (AIC)
What Can We Help You With - Videos
Green Cards Through Employment
Green Cards Through Marriage